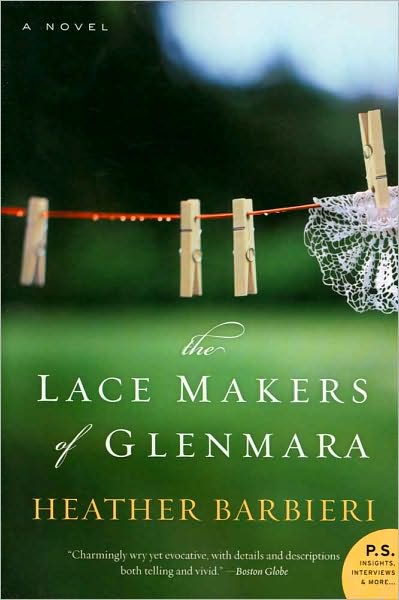 Source: Library Book.
Rating: 3 out of 5.
Synopsis from
Goodreads.com
:
"You can always start again," Kate Robinson's mother once told her, "all it takes is a new thread." Overwhelmed by heartbreak and loss, the struggling twenty-six-year-old fashion designer follows her mother's advice and flees to her ancestral homeland of Ireland, hoping to break free of old patterns and reinvent herself.
My Review:
I had high hopes for this book, I really wanted to be able to say that I absolutely loved this book, but I just can't. While I was able to finish it quickly and get involved with the characters and even be transported to Ireland with Kate and all of the lovely lace makers, it just felt like there was something missing. I really liked the characters and the author's style of writing, but I just couldn't really bring myself to believe that she would be taken in so quickly by (most of) the locals. I also didn't feel like she (Kate) truly confronted everything she needed to come to terms with in her life to be able to go on as she did.
While allowed a glimpse into the lives of the villagers and even growing fond of a few of them, that's all it felt like for me, a glimpse. I wished I could get to know them more and in a way spend more time with each of them and Kate as well, to be able to really feel like this story came full circle. I would have loved to see more of small town life in Ireland, and more of Kate learning how to make the lace. I think she learned it rather quickly, comparing to how the other women of the lace making society spent most of their lives & childhoods at making it.
I haven't really much else to say, though this book was not a total disappointment. This story showed a lot of potential and I will be waiting to see what this author comes up with next.