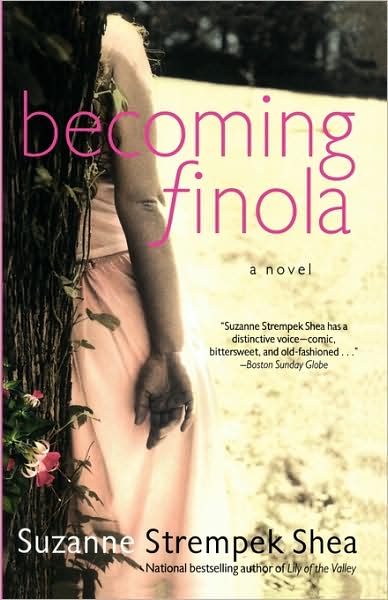 In the latest novel from the award-winning author of Around Again, an American takes an unexpected trip to Ireland and finds the woman she was meant to become.
Newly unemployed, Sophie White has nothing better to do when her recently widowed best friend, Gina, invites her along on a much needed, post-crisis getaway. When, after only one day in Ireland, Gina decides she should do her grieving back at home, she urges Sophie to remain and make the most of the summer in Booley, the tiny seaside village that was their destination.
A job offer accepted on a whim lands her in the village's craft shop, and in the position once held by Finola O'Flynn, a woman who'd swiftly left town a few years before.
My Review:
I don't remember what made me want to read this book, but I'm glad I finally got to it. While I think the pace of the story could have picked up a little more, I really liked the author's easy writing style. Not to say though, that the writing was enough, because it wasn't. What really held me more than the writing and the honestly written characters, was the whole "Finola O'Flynn" situation. Much like Sophie, I began to wonder about Finola and what was so darn special about the woman that seemed to have captivated everyone in the small town of Booley.
But something I found rather strange and even a little disheartening about Sophie, was that she eventually seemed to really want to become Finola. That bothered me, because it made it seem like the message was that it wasn't ok to be yourself, but ultimately, in Sophie's path to "becoming Finola" she really became herself. She became Sophie. I don't think she would have been able to achieve that if the real Finola hadn't shown up again. I was glad for that, because before that, and I hate to repeat myself in a way here, I think Sophie was a little lost on the path to self discovery and healing. And putting a little too much faith in the real Finola, whom she had never even met. I almost hate to admit, that I rather liked the Finola in Sophie's head more than the real one. Mostly because I had become as fond of that Finola as Sophie had, and the real one, wasn't much of a thrill to know.
I began to wonder when or if the real Finola would really show up again, because it was getting near the end when she finally did. I think it came about a little flat actually. But then, I'm not really sure what I was expecting or hoping for when there would finally be a meeting. But, I think I was actually sweating more than Sophie was when it finally happened, why I'm not quite sure, but I think it was mostly because, like Sophie, I'd never known the real Finola O'Flynn, so I didn't know what her reaction would be to find Sophie in her shop, claiming to be her.
I don't want to spoil it or take away more mystery from the story, so I will end this review here by saying while this wasn't quite what I expected, I really liked reading it and getting to know these characters.