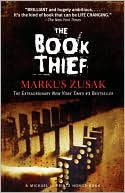 Author
:
Markus Zusak

Genre
: Fiction, YA
Source
: Personal copy.
My Rating
: 5 out of 5.
The year is 1939. And Death is the narrator, calmly telling the story of a girl he calls
the book thief
, Who later comes to be known as Leisel Meminger. Sent to live with foster parents Hans and Rosa Hubermann on Himmel Street in Molching, Germany; it is on her journey there where it takes place the very first time: Leisel, steals a book.
I found this book extremely appealing mentally as well as visually. Not only is it set in a time in history I am greatly interested in, I really enjoyed the different style of this book. It was wonderfully written and well, haunting really. Beautiful and heartbreaking with lovable and slightly odd but serious characters. This quickly became one of my favorites.